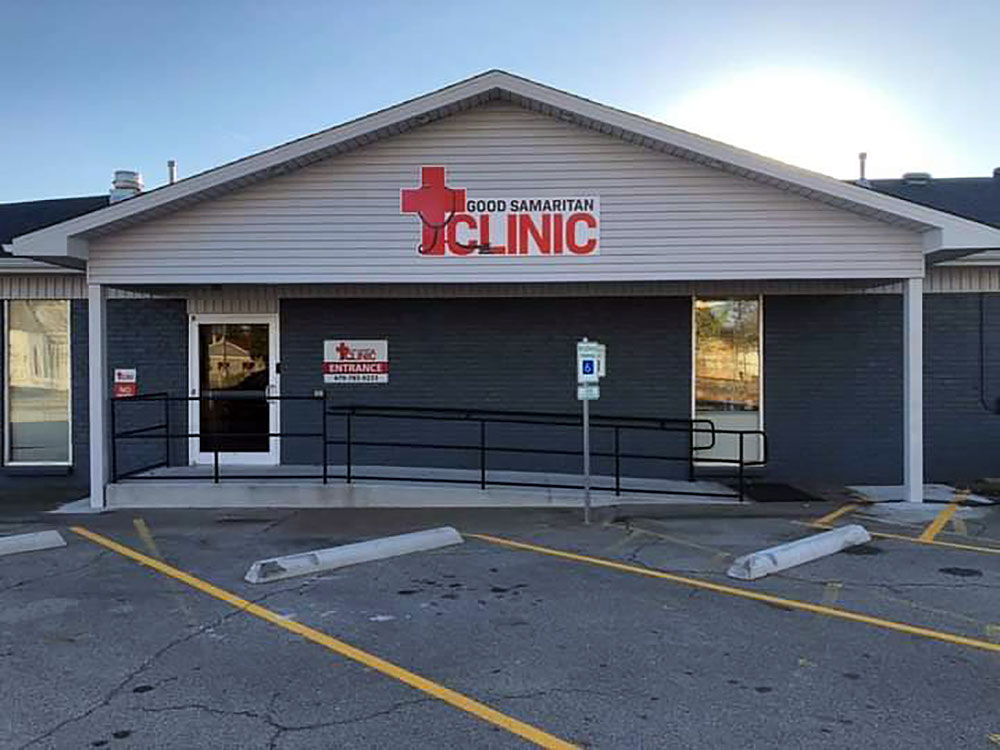 A local group of concerned individuals recognized that our greater Fort Smith community was trying to grow, but had many challenges to overcome. Unemployment rates and local poverty levels were on the rise. In an effort to help those in need, these leaders decided to address the issue of health and wellness or more specifically access to affordable and quality medical care for area residents regardless of condition, age or ability to pay.
A free clinic night at St. Paul's Methodist Church on Grand Avenue was held with volunteer doctors and nurses meeting the medical needs for the underserved in our community. Much to their delight and surprise, 70 people showed up for the opening night and from there the present day Good Samaritan Clinic was born. In 2003, under the direction of Dr. Kemal Kutait, a retired family practitioner, and Ramona Roberts, a veteran real estate professional, both from Fort Smith, the group organized to offer a more formal clinic setting in its current location at 615 North B Street, in partnership with St. John's Episcopal Church.
Over the years, the Clinic has grown from a handful of patients a day to an average of nearly 500 patient visits per month. Given this growth in demand for and expansion of offered services (now dental, chiropractic, counseling and optical in addition to traditional medical care, education and prevention), staffing likewise grew from three full-time positions to a dedicated team of six full-time and two part-time employees, plus numerous volunteers.
The number of patient visits has continued to increase. Even with a strict application and screening process, the Clinic now has over 15,000 patients within its database. The Good Samaritan Clinic, its friends, auxiliary, supporters and volunteers believe that the health of our community is the wealth of our community. By helping to promote happy, healthy and productive individuals, we believe our service area and indeed society as a whole will benefit. As with any local, independent not-for-profit organization, it takes money to meet our mission. With growing patient loads and demand for services, the Clinic's financial needs are pressing, but never distracting from our end goal. Thanks to volunteer health care professionals, the Clinic continues to provide affordable on-site medical services for the uninsured and under insured, the homeless, the elderly and children in need. As we celebrate our 20th anniversary, we as Good Samaritans strive to meet and exceed individual patient needs by treating the whole person, which in turn helps our community grow and prosper.
Our Mission
To improve the health in our region by providing access to compassionate, quality healthcare.
Our Vision
A community in which neighbors work together giving their time, talent, and resources to ensure everyone has the opportunity to live a healthy, productive life.
Our Values
LOVE: We have the responsibility to be our brother's keeper.
ACCESS: We believe all deserve access to quality healthcare.
COMPASSION: We believe in showing compassion to all with dignity.
ENGAGEMENT: We believe passion, partnerships and a personal connection drives employees and a community to action.
Love, access, compassion and engagement LACED together, are the ties that bind us as one organization, helping those in need.
Good Samaritan Clinic is able to operate thru the generosity of donors, volunteer doctors, nurses, staff and our administrative team.
Patti Kimbrough
Executive Director
Dr. Leslie Ziegler
Medical Director
Bree Brown
Operations Mgr. / Medical Asst.
Meredith Eddins
Communications Director
Joann Flocks
Volunteer Bookkeeper
Yaqi Rodriguez
Medical Asst. / Translator
Cassandra Picazo
Medical Asst. / Phlebotomist
Each board member holds a key to unlocking invaluable change and growth not only for the clinic, but our community as well. We'd like to thank all of our past and present board members for choosing to volunteer their time, talents, and insights.
Treasurer
Randy Strickland
Immediate Past Chair
Nycole Oliver
Nominating Chair
Stephanie Parson
Executive Director
Patti Kimbrough
Pat Hightower
Rev. Mike Lager
Harold MacDowell
Darrell Stovall
Dr. Leslie Ziegler
Good Samaritan Clinic Board of Directors for Fiscal Year 2022-2023
Keith Brown
Rebecca Brown
Mark Buergler
Stephanie Davidson
Dr. Brandi Guthrey
Melissa Hanesworth
Christopher Hooks
Dr. David Hunton
Bobbie Lamb
Victor Martinez
Monica McGruder
Tina Meek
Jay Richardson
Jennifer Terry
Stan Vlademar
Dawn Watts
Stephanie Whitaker
Holli Willis